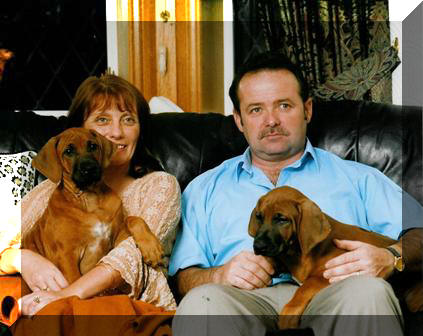 Gordon and I purchased our first Rhodesian ridgeback in May 1985. My parents had Ridgebacks when I was young and after convincing Gordon as to how unlike any other breed of dog they were, we collected 'Remus' at eight weeks of age to add to our family of two boys, Gordon & Jonathan.

In 1987 we added again to our family with Catrine Abbie. She was to become our foundation bitch. Her character was unique and we have lots of happy memories of her time with us. She was mated to CH, IRE CH Mursil Huntsmaster of Barca from which we kept her daughter, Walamadengie Serra. Serra was only shown lightly as by now we had added again to our family with our daughter Candice Ann Cunningham.

In 1994 we took possession of an outstanding dog puppy who we named Kruger with the view to show more frequently. Kruger (IRE CH Chrisona lomu of Flametrees) is the perfect Gentlemen and lives with his two daughters and four grandchildren. He is the doting grandfather and always lets the females have their own way. We had great fun making him up to an Irish champion and he sadly passed on earlier in the year.

We mated Kruger to Serra in 1997 and from the paring we have Walamadengie Fula. Fula is a good character who just loves being at home enjoying all the simple things like mealtimes and plenty of walks out in the open countryside. She has had two litters and is the perfect mother. She just adores her babies and it is a joy to watch her with them.

During 1999 we had a repeat mating with Kruger and Serra and from this paring we got one of our greatest product to date; GB /IRE/ International Champion Walamadengie Conquisidor (Connie). We knew as soon as we saw her that she had potential and that special something! She has achieved more than any other Scottish Rhodesian Ridgeback has ever done and is the only Ridgeback to date to have the three titles having gone out of her own country onto the continent to win them. She became an international champion in 2002. Her greatest highlight in the showing arena has to be achieving a win in the champions' class at the world show in Amsterdam competing against champions from nine other countries. Staying in only the best of hotels all over Europe Connie truly now believes that she is indeed human and not a dog! She has won a total of ten C.C.s, seven B.O.B.s, four C.A.C.I.B's and six Res. C.C.s.

Connie has had one litter to Champion Gunthwaite Action-man from which we have kept her son now GB/ IRE /BEL/ International Multi champion Walamadengie Awesome and Daughters International Champion Walamadengie Lady Elegance & IRE CH Walamadengie Eternity. These youngsters as you may gather from the titles they hold, are doing very well in show rings around Europe. Their other sister Walamadengie Exquisite rejoined our kennels at the age of three and has settled well back into our family and has the same loving temperament as her siblings.
Our next progeny in the show ring was Irish Champion Walamadengie Eternal Angel who is the daughter of Walamadengie Eternity and so Connie's Grand-daughter. An exceptional bitch, the families tradition of high achievers and excellence in the breed will continue.
We mated Int Ch Walamadengie Lady Elegance to International Multi Ch Shangani Pansa Dafina and have had a resulting litter of ten. We were very pleased with all of them and Ellie Was a wonderful Mother. From this paring we now have Junior Champion Walamadengie Monte-Carlo & Walamadengie Chanterelle who both are stunning. These are the ones to watch for the future. We are very exited with this new generation of Walamadengie.

Although showing is a very important part of ours and our dogs lives which we thoroughly enjoy, first and foremost all our dogs are our pets and are very much part of our family. We purchased a caravan and chose our cars to suit our lives with our dogs so that our holidays and everyday life includes them. We enjoy our time on the show circuits meeting new faces of the dog and human variety.
We could not imagine our lives without our Rhodesian Ridgebacks.